Product
New Product : Lasertec Announces TSS20 Coating Thickness Scanning System
2012.10.23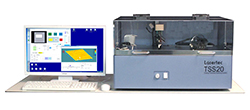 Innovative and effective tool for coating process management and quality improvement of LIB electrodes
Yokohama, Japan, October 23, 2012 - Lasertec Corporation today announced TSS20, an innovative system that visualizes uneven coating thickness and defects on the electrodes of lithium ion batteries (LIBs).
LIBs are widely used today on smartphones, cellular phones, tablet and notebook PCs in compact packaging. As their usages are expanding into more diverse applications including medium to large-sized batteries for electric vehicles and load leveling, LIBs are expected to become more energy efficient with higher energy density and shorter recharging time while meeting a higher safety standard. Improvement of LIB quality is required especially in electric vehicle application to meet growing demands for safer, more durable and longer-running electric vehicles. In this respect, it is necessary to have a better quality control of LIB electrode sheets during the production process. However, the conventional inspection equipment can only measure entire electrode sheet thickness but cannot measure coating thickness, which is more critical. In this background, Lasertec has developed the TSS20 Coating Thickness Scanning System, enabling measurement of coating thickness on both back and front surfaces of LIB electrode sheets.
Featuring a newly-designed flying sensor head, TSS20 performs non-contact scanning over the entire surface of designated areas and measures the thickness from the collectors to the top of active material layer, either on the back or front side of an electrode sheet. TSS20 can visualize distribution of uneven coating thickness and other defects at high speed, making it an effective tool for quality assurance and production process improvement.
Featuring a newly-developed inductance sensor, TSS20 visualizes distribution of coating thickness from the collectors to the top of active material layer in high resolution at sub-micron level over the entire surface of designated areas of cathode and anode.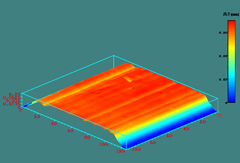 In the left picture, uneven coating due to die coater problem is shown as lines.
Thanks to a capacitance sensor integrated with the inductance sensor, TSS20 can visualize distribution of additives, such as binders and conductive agents, on active material layers and additive clusters, which adversely affect LIB performance.
The picture on the left shows coating distribution of the same sample measured with the capacitance sensor. Horizontal lines are coating errors while black spots indicate peeled coating and white spots are clusters.
TSS20 measures both distribution of coating thickness and uniformity of slurry condition in a single operation.
The flying sensor head scans at high speed, measuring an A4-size area in approximately 4 minutes (patent-pending).
Maximum measurement area: 20cm x 25cm
Management of slurry condition and viscosity uniformity
Fine tuning of die coaters (for gap widths and pump pressures)
Management of press roll accuracy
In addition to the capabilities described above, TSS20 can be an effective tool in photovoltaic cell applications, offering high-speed visualization of cell stress (warpage) in a module as well as the state of sintered silver and aluminum paste on the backside of a cell.