Product
Phase Shift / Transmittance Measurement System MPM193EX and ArF Mask Review Station MRS 193EX
2008.02.19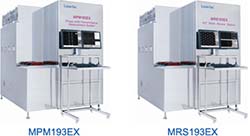 Lasertec Corporation today simultaneously announces two new products [Phase Shift / Transmittance Measurement System MPM193EX] and [ArF Mask Review Station MRS193EX]
Phase Shift / Transmittance Measurement System MPM193EX
Measurement performance is remarkably improved.
Measurement of masks with pellicle mounted is possible.
Automatic inspection function is greatly improved compared with that of the conventional model
Phase shift measurement in the micro area of 1 µm or less is now possible.
Auto loader and mini-environment with chemical filters are standard equipments.
The system is built up on a unified platform with MRS193EX and mask review function can be added as option, accordingly.
Phase shift measurement of phase shift masks
Transmittance measurement of half tone phase shift mask
Defect review of masks (Option)
Main Body, Control Section, Computer Section
ArF Mask Review Station MRS 193EX
Mask Defect Review System most suited for defect observation after defect inspection in Photomask production
Implementation of higher resolution by employment of shorter wavelength reinforces review ability of mask patterns and defects smaller than 100 nm.
Masks with pellicle mounted can be observed.
Employment of high precision stage makes defect observation easy based on the coordinate data from defect inspection systems.
Defect area in the viewing field is automatically detected and provides highlight display of defects.
The system is built up on a unified platform with MPM193EX and phase shift / transmittance measurement function can be added as an option, accordingly.
3D measurement becomes available by installing an AFM within the system. (Option)
Defect transfer simulation software can be linked to the system. (Option)
Mask defect review after defect inspection
Defect size measurement
Verification of foreign particles (cleanable) and pattern defects (repair needed)
Phase shift / Transmittance measurements (Option)
Main Body, Control Section, Computer Section