Product
New Product: "BGM300" TSV Back Grinding Process Measurement System
2012.08.27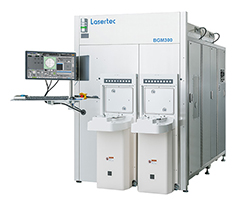 Direct and speedy measurement of Si thickness, TSV depth and RST before and after TSV back grinding process
Lasertec Corporation today announced "BGM300", a new product that measures silicon wafer thicknesses and TSV depths prior to back grinding process of 3D semiconductor device production. Lasertec is planning to deliver an initial unit of BGM300 to a major device manufacturer.
Efforts are being made in the semiconductor industry to commercialize 3D integrated circuits that have multiple silicon chips vertically stacked for a further increase of density, process speed, and energy efficiency. The stacked chips are electrically interconnected by electrodes called Through Silicon Vias ("TSVs"). In production of 3D semiconductors with TSVs, the backside of silicon wafers needs to be properly ground to expose embedded TSVs. Excessive grinding, however, may cause Cu contamination of silicon wafers with cupper particles ground off from TSVs. If grinding is insufficient, on the other hand, the subsequent etching process will become long and costly. To avoid these problems, TSV depths need to be accurately measured prior to grinding. BGM300 can make speedy measurement of TSV depths and silicon thicknesses, which are essential for proper grinding. BGM300 can also measure remaining silicon thickness (RST) over TSVs after grinding.
BGM300 combines a newly developed IR optics with an interferometer used on Lasertec's MPM series, which is acclaimed as an industry standard of phase shift measurement systems among photomask manufacturers and users. Since visible lights used by most commercially available measurement systems have limited penetration depths into wafers, they are not desirable for the pre-grinding measurement. Conventional IR optics-based systems also have difficulty with TSV depth measurement due to spot size limitations. Furnished with the proven and reliable interferometer and new IR optics, BGM300 has overcome the challenges associated with pre-grinding TSV depth measurement.
Unlike indirect measurement methods such as scatterometry, BGM300 does not require complicated calculations or previews of multiple samples against database, and is applicable to a variety of TSV shapes or pattern layouts. BGM300, therefore, provides reliable and flexible measurement capabilities throughout development and production stages of 3D semiconductor devices.
Lasertec has developed BGM300 in a joint effort with DISCO Corporation. Lasertec is proposing optimum solutions for back grinding process.
TSV depth measurements based on a combination of Lasertec-proprietary interferometer and IR optics.
Applicable to measurements in pre- and post-back grinding processes.
BGM300 provides an optimum solution for back grinding process.
Pre-back grinding measurement of silicon thicknesses and TSV depths.
Post-back grinding measurement of remaining silicon thickness (RST).
Detection of abnormal adhesive thickness of bonded wafers.